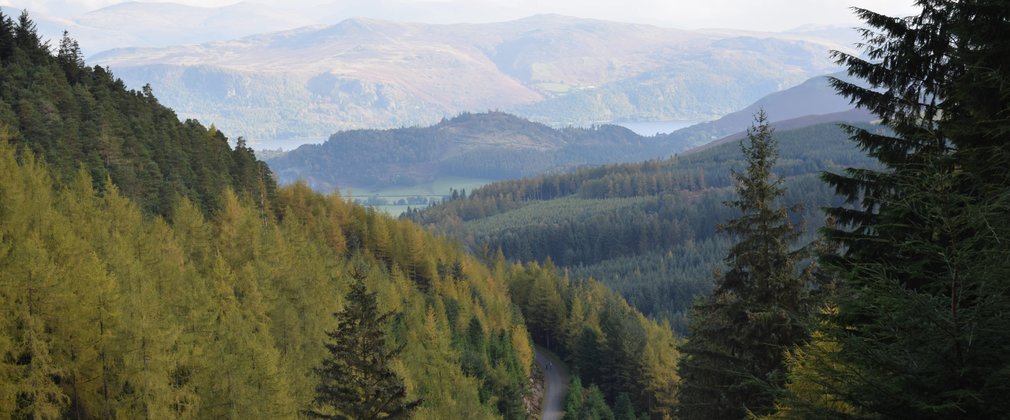 My first few months off work were hideous, I love to work and I like being around people so not being able to do this was hard, I would go further in saying it was very lonley.
I seemed to spend a lot of time in my car driving round trying to find somewhere I could enjoy walking. My body was fluctuating in energy levels and so just hammering off up mountains wasn't working.
The Lake district is full of amazing places, I have so many favourite routes in the hills, so many swim spots, but in my current frame of mind they weren't working.
I started to draw towards Whinlatter forest, its about 25 minutes from home and offers so much variety, for some reason it became a safe place for me, during the week days it is pretty quiet so I can just do my own thing and not really see anybody. The dog loves it (a part from the occasional low flying aircraft's).
It is a place I can walk, run and mountain bike. You can stay low down and walk short marked trails or you can follow your nose and find some Tolkienesque landscapes with dark tunnels of trees creating and mystery and adventure. You can hit the cafe or take off up the Mountains.
For some reason it has become my Sanctuary, somewhere I feel comfortable, somewhere I feel safe and has allowed me to relax and process my thoughts. At times it allows my let out my anger.
The whole essence of using the outdoors for therapy is about finding what works for you on any given day. It's somewhere I go alone, it's somewhere I go with friends or family. It allows time to talk or time to be quiet. Time to take it easy and time to work hard. I haven't found any where that offers as much variety to meet my needs.
I have found that Mountain biking is a great stress relief the nature of having to do short burst of hard work gets the heart rate up which helps to fire the endorphins, releasing our natural happy pills.
Poppy loves it with a harness on she thinks she is a husky and we can be seen regularly flying through the car park with her in the lead. I think we forgot to tell her she is a gun dog!!
If your lucky you get some amazing cloud inversions as the sun heats up the low lying clouds.
So here is a challenge, not only continue to set yourself the challenge of getting out, hows about finding your Sanctuary…. Let me know how you get on.